Our Approach & Investment Stratey
At Spectre we work to disrupt industries.
Spectre uses a venture studio model, combining the best of traditional venture capital investing and growth focused private equity investing. We work with founders and startups on breaking the status quo or identifying gaps that have never been addressed before. Our metrics are tied to finding maximum return deals instead of the amount of total capital deployed.
Our Principles
Maintain a balance between disruption & responsibility
Push the boundaries of innovation
Practicality of solutions
Challenge conventional wisdom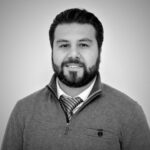 Founder & Managing Director
Ahmad Ishaq is a serial entrepreneur who is passionate about impacting change across the world. He enjoys sharing his experiences with the upcoming generations in the hopes to empower first time entrepreneurs—especially entrepreneurs from underrepresented communities. Ahmad resides in Southern California, he enjoys playing sports and is a big Lakers fan.